There's a time in every (ok, most) personal finance blogger's lives when they reach a point and they know it's time…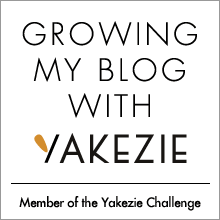 Time to join the Yakezie challenge! I've heard only great things about Yakezie (and just recently learning that it's pronounced Yah-kay-zee, oops). It seems like a great network for building relationships with other bloggers and learning how to create the best content possible – two things that are so important to me during this journey.
Basically, the challenge is to post good content 2-4 times a week for six months. Over the six months, you try to build relationships with other bloggers while increasing your Alexa ranking (a number that helps determine a site's "popularity"). If you want to help me increase mine, just install the Alexa toolbar and then every time you visit my site, you'll help me get closer to reaching my goals!
Believe me, I'm going to need all the help I can get. My current Alexa ranking is 6,927,846 worldwide (595,990 in the US). The goal is to get the worldwide number down to 200,000 so I have a long way to go. I'm excited to join this challenge and look forward to getting to know the other blogs in the Yakezie network!